About Damon Yudichak
As the founder of Yudichak CPA PC, I can't believe how far we've come. I started the firm in 2008 after working in corporate accounting and as a tax accountant and financial statement auditor in a public accounting firm. Nearly 10 years later, I can confidently say that I love what I do and the clients I get to work with.
As a serial entrepreneur myself (my first business was a commercial cleaning business) I understand the joys and frustrations that come with owning and running a small business. I thrive on the fact that I get to spend every day helping people who are working hard toward their dreams. I love seeing my clients succeed and love helping their businesses grow.
I've worked with hundreds of businesses.  I started my business with a simple philosophy:
"Running a Profitable Business Can Change Your Life".
As my CPA business has changed over the years, I learned that what people really look for when they hire a tax professional is advice not tax preparation.  I'm a Certified Profit First Professional (PFP).  I'm constantly increasing my knowledge on tax laws.  In addition to being a Certified Professional Accountant, I am a Certified Tax Coach (CTC) and Certified Tax Planner (CTP). I have received extensive training on tax strategy and tax planning. Rather than simply preparing your tax returns and telling you what you owe, I work with you to understand your tax situation and improve it drastically.
I received both his B.S. in Accounting and his Masters of Business Administration from NC State University.
When I am not in the office, I like to get outside. I enjoy hiking and generally spending time out in the fresh air. I prioritize spending time with my wonderful family.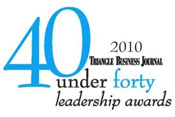 In 2010, the Triangle Business Journal recognized Damon as being one of their 40 Under 40 leadership recipients.